Welcome to Dempster Tire Pros
It all began in 1941, when Russ Dempster, and his wife Betty, moved from Wheeling, West Virginia to Middletown, Ohio. I was here when Russ pursued an opportunity in a retread franchise. Russ became "Rus" after discovering his whole name wouldn't fin on the sign on the building. Originally located at 1329 Central Avenue, the company relocated to 32 South Clinton Street. It was here where Russ pursued another franchise opportunity.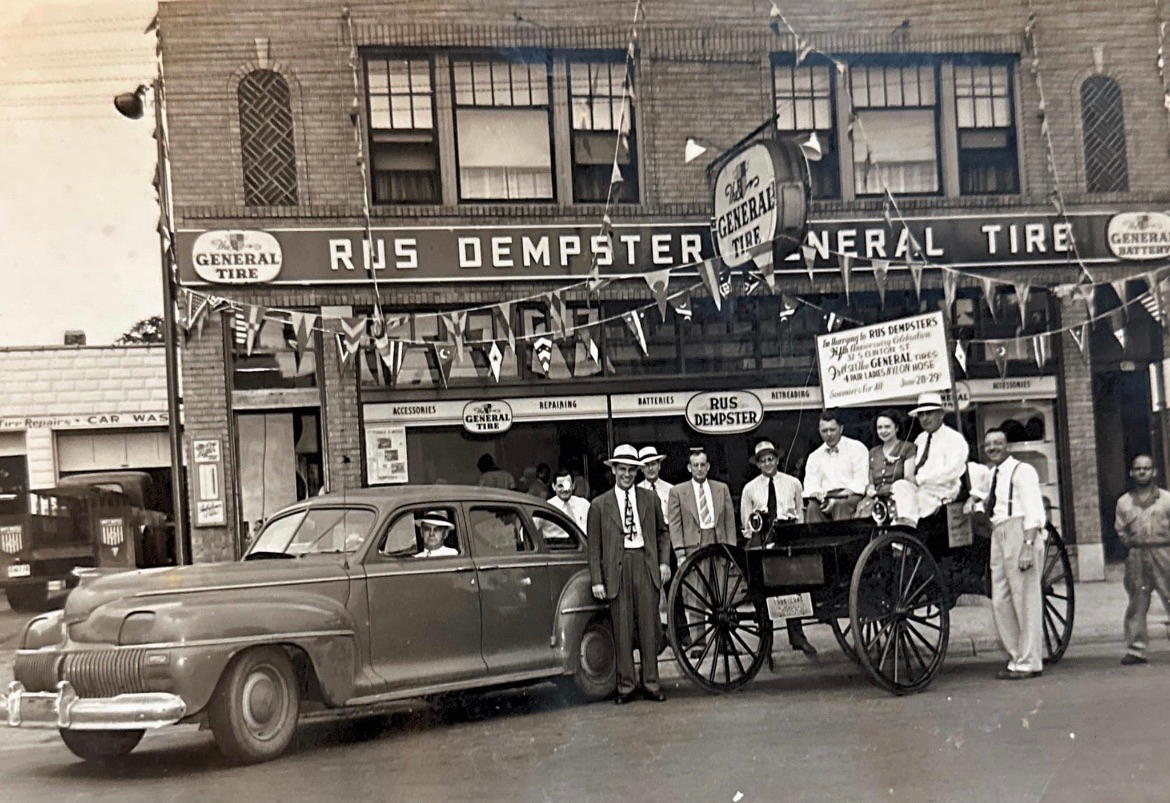 Russ sold Kaiser Frazer automobiles into the early 1950's. In 1955, Russ purchased land to fulfill his dream of designing and building his own tire store. His design included two service bays, a retread shop, and a showroom. The location opened for business in 1956 and is still in use today.
It was during this time that Russ's son, Richard (Dick) was growing up. After graduating from The University of Cincinnati, Richard joined the family business full time in 1967. In 1972, Richard acquired the business. Richard carried on the family business and continued to grow it by adding to the list of services Dempster Tire provided. One of those was large earthmover tire servicing brought about by the Armco (Ak Steel—Cleveland Cliffs) project 600 expansion.
In the early part of the new millennium, Richard's son, Richie, joined the organization. This made Dempster Tire a three generation, strong, family firm. In 2002, Dempster Tire broke ground on a new $350,000 building expansion. The expansion included storage for medium commercial truck tires, along with a large bay to service Dempster's ever growing commercial clientele.
Dempster Tire completed a total remodel of the showroom/sales floor area in 2004. The original retail shop underwent a complete renovation in 2009 allowing the installation of a new alignment rack.
In 2022, Richie Dempster took ownership of the company. Prior to his ownership, Richie expanded the company to provide tire service for two steel mills in southern Alabama as well opening an Industrial weld shop. After a four-year run, the weld shop was closed so the full focus could be given to both the retail and on-site tire service divisions of the company.
Dempster Tire prides itself on continually improving and adding to the services they provide for their clients.
Learn More About Dempster Tire:
We're licensed and insured for our customers' protection, and we stand behind all of our work 100%.
We are members of the Better Business Bureau.